UK Department of Transport recommends launch of ammonia / hydrogen powered vessels within 5-15 years
By
on February 08, 2019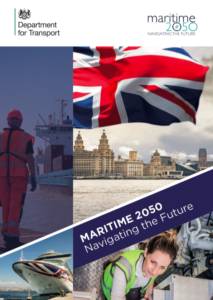 In January 2019, the UK Department for Transport published a policy paper outlining its vision for the maritime sector over the coming decades. Among the many recommendations contained in Maritime 2050: navigating the future, is a medium-term objective to place "a group of hydrogen or ammonia powered domestic vessels in operation."
The "strategic ambition" driving this recommendation is the expectation that "the UK will … lead the way in taking action on clean maritime growth enjoying economic benefits from being an early adopter or fast mover." Moving forward, these recommendations will be developed into policy in the government's forthcoming Clean Maritime Plan, scheduled to be published in Spring 2019.
The policy paper is structured around seven themes: the UK's competitive advantage, environment, infrastructure, people, security, technology, and trade. Each section includes recommendations for short- medium- and long-term actions. The "Environment" section is heavily geared toward supporting the IMO's GHG emission reduction targets of 50% by 2050 and net zero carbon emissions as soon as possible within this century.
In the Environment section entitled "Towards zero emission shipping," Maritime 2050 describes its recommendations for the medium term, which it defines as 5-15 years:
In line with the Industrial Strategy, government aims to launch a number of "zero- emission shipping ambitions" in the Clean Maritime Plan which could include:

A group of hydrogen or ammonia powered domestic vessels in operation
At least one major port in the UK to have all ship-side activity zero emission (including non-road mobile machinery like cranes, as well as ships while docked in port).

UK Department of Transport policy paper, Maritime 2050: navigating the future – executive summary, January 2019
While the Clean Maritime Plan will establish the procedures by which these goals will be achieved, the government is unlikely to be working alone. As Maritime 2050 explains, while some recommendations are for government and others are for industry, "an overwhelming majority will only be achieved through collective endeavour."
One party to that collective endeavor, cited throughout Maritime 2050, will be the Committee on Climate Change (CCC), about which I wrote in December 2018, when I reported on its analysis of ammonia as a fuel and as a hydrogen carrier, enabling Hydrogen for a Low-Carbon Economy.
Maritime 2050 was launched with an event at the IMO's London office on January 24, 2019, when Transport Secretary Chris Grayling described it as a "truly visionary long term strategy for the UK maritime sector."
This document is bold and aspirational, cementing our ambition to be a world leading maritime nation long into the future …

Maritime 2050 explores a host of other exciting developments, from developing a maritime innovation hub in a UK port by 2030 to helping maritime businesses seize the opportunities of digital technologies, and unlocking the economic potential of our waters through seabed mapping.

Maritime 2050 also looks at what we can do to become a trailblazer for green technologies.

Whether that's exploring ways to nurture the growth of zero emission shipping, closer collaboration between industry and government through the Clean Maritime Council or by setting bold targets for the long term future — such as aiming for all UK ferries to be emission free.

These are all steps that will not only help Britain meet its international environmental obligations.

But also help the industry to enjoy the economic rewards of the move to cleaner technology.
The Rt Hon Chris Grayling MP / DfT, Working together for a thriving maritime sector, 01/24/2019