On the Ground in Japan: Hydrogen Activity Accelerates
By
on March 15, 2018
A recent Ammonia Energy post mentioned that in December 2017 "the Japanese government . . . approved an updated hydrogen strategy which appears to give ammonia the inside track in the race against liquid hydrogen (LH2) and liquid organic hydride (LOH) energy carrier systems." While this news is positive, the hydrogen strategy remains the essential context for economic implementation of ammonia energy technologies in Japan; ammonia's prospects are only as bright as those of hydrogen. This is why Ammonia Energy asks from time to time, how is hydrogen faring in Japan?
A sampling of news articles from a recent (and randomly chosen) two-week period shows that an acceleration of activity is occurring on behalf of the "hydrogen society." The subject matter of the articles ranges from small, local, and immediate to large, national, and long-term. Following is a run-down of what was reported.
Government Policy
On February 27 the Ministry of Economy, Trade and Industry (METI) convened a panel of experts to discuss long-term ("toward 2050") energy policy. While "significant decarbonization and conversion of energy structure" are seen as "an irreversible trend of the world", the experts acknowledged that there is "uncertainty" in the future energy situation. Nonetheless hydrogen energy received a strong endorsement.
A budgetary context for hydrogen implementation was set by the February 28 release of a tabulation across government ministries of projected spending in fiscal 2018 (start date: April 1, 2018) on "global warming countermeasures." The spending identified totals ¥826 billion ($7.7 billion).
A key point brought home by the projection is that spending directly related to hydrogen development is a small part of the total picture.  Energy conservation across key facets of the economy appears to be the most important element of the program.  Other targets of note are waste disposal and recycling, electric grid technology, and development of national energy resources.  Hydrogen technology is clearly expected to play a role in the latter area, with explicit funding of ¥8.9 billion ($83 million) designated for "hydrogen supply chain utilizing un-utilized energy."  Other measures directly related to hydrogen involve subsidies for household fuel cell introduction (¥7.6 billion / $71 million) and hydrogen station improvement "for promotion of fuel cell vehicles" (¥5.6 billion / $52 million)
Technology Development
Hydrogen technology development was the focus of two articles.  On February 21 the New Energy and Industrial Technology Development Organization (NEDO) announced that it would be recruiting additional industry partners for its "Leading R & D Projects on Hydrogen Utilization" program.  The two goals of the program are to develop "highly efficient low-cost hydrogen production technology from renewable energy;" and energy carrier technology that can "facilitate long-distance transportation of hydrogen and long-term storage." The program's vision embraces "large-scale hydrogen utilization technology" and its time frame is "toward 2030."
The agency will look for partners in two specific areas: advanced water electrolysis and "closed gas turbine systems" that operate with oxy-hydrogen combustion.
On February 26 NEDO, Mitsubishi Chemical, toilet manufacturer TOTO, and the University of Tokyo announced that they had succeeded in prototyping "a large-scale reactor that [produces] hydrogen from water using [a] photo catalyst."  The group is targeting an energy capture efficiency of 10%.
Ene Farm Market Development
Two articles spoke to market development for residential fuel cells – "Ene Farms" – that run on natural gas. The first article, from February 26, described METI's "auxiliary scheme" of subsidies for Ene Farm purchases. An Ammonia Energy post from May 2017 suggested that "how the Ene Farm topic develops is likely to be a major factor in Japan's ability to sustain its hydrogen vision" and stated that "economics are critical to consumer acceptance of the Ene Farm product." Specifically, the post reported that METI had set a price target for a 700 watt polymer electrolyte fuel cell (PEFC) of ¥800,000 ($7,477) for 2019. In early 2017, Tokyo Gas featured a pre-subsidy PEFC price "below" ¥1,500,000 ($14,019). This would be met with a subsidy of approximately 20% (depending on the exact retail price). The February 26 article reported that the "reference price" of a PEFC is now ¥1,100,000 ($10,280). For market prices below the reference price, the rate of subsidy will go down to approximately 5%.
On March 5, Osaka Gas, in partnership with automotive supplier Aisin Seiki, ceramics and electronics producer Kyocera, imaging equipment company Noritsu, home heating equipment manufacturer Purpose, and appliance manufacturer Rinnai, announced that in April it will introduce an "Enefarm type S" solid oxide fuel cell. It joins market incumbent Panasonic and diversified manufacturer IHI Corporation, who announced last year that it would be conducting pre-commercial "verification tests" this year for its Ene Farm offering. (Click here for the relevant Ammonia Energy post.)
One more company on its way into the fuel cell market is Brother Industries. On February 23, the company announced that it will shortly introduce a new hydrogen fuel cell, albeit not for household use. With an output rated at 4.4 kW, the product is geared for "social infrastructure" applications such as power for "communication base stations and small data centers," emergency response for municipalities, and cogeneration systems supplying electricity and heat.
Support for Fuel Cell Vehicles
Three articles were published in the period that speak to developments in the field of hydrogen fueling stations (HFS). An Ammonia Energy post from June 2017 described the challenging path for HFS development, quoting a Tokyo Shimbun story to the effect that each station "runs about ¥400 million [$3.6 million] in construction costs. In order to achieve profitability, about 1,000 fuel cell vehicles [FCVs] are required as customers per location. Construction is not proceeding."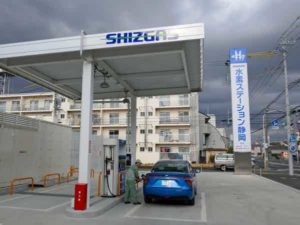 On February 23 it was reported that the first HFS in Shizuoka Prefecture, now one year old, is seeing an increasing level of activity and has reached a monthly rate of 600 fueling events. The prefecture is situated along the heavily traveled Tokyo-to-Osaka corridor, which presumably means the station's patronage is not limited to the 50 FCVs registered to prefecture residents (up from 30 a year ago).
On February 28 Niigata Prefecture presented the draft of a "diffusion vision" for the introduction of FCVs in its jurisdiction. A centerpiece of the vision is installation of an HFS in Niigata City. The prefecture is approximately the same distance from Tokyo as Shizuoka Prefecture but lies within the less densely populated region along the coast of the Sea of Japan. Given the price of an HFS, prefectural authorities believe they can "secure the number of FCVs necessary for profitability in fiscal 2030."
The June 2017 Ammonia Energy post reported that the government's target number of HFS for 2020 is 160. Hence the big news on the HFS front was Toyota's announcement on March 5 that, in partnership with ten other companies, it is establishing a new venture that "by 2021 [will build] about 80 stations nationwide." Companies participating in the venture include automotive OEMs Nissan and Honda, petroleum companies JXTG and Idemitsu Kosan, and industrial gas company Iwatani Sangyo. (Iwatani has often been mentioned in Ammonia Energy posts on the basis of its support for liquid hydrogen as an energy carrier. Click here for representative coverage.)
The article says that "currently, there are 92 hydrogen stations nationwide, but the number of FCVs is only around 2,000." A JXTG executive spoke about the "limits" of individual companies to build stations, presumably because under current parameters, the stations "are not profitable." The article says that METI "will support about half of the construction cost of the stations with subsidies and further deregulation is planned." The government will also subsidize the operating costs of the stations. The new company will build the stations and entrust management to JXTG and Iwatani.
Economy, Trade and Industry Minister Hiroshi Seihiro said he expects the new company "to be a big step in realizing [the] hydrogen society."
On March 8 Air Liquide followed the Toyota news with an announcement that it will build 20 HFS in fiscal 2021. The company said that it will "develop a hydrogen supply network independently in Japan, which we view as a promising market, and encourage the diffusion of fuel cell vehicles (FCVs), which are to be regarded as the 'ultimate eco car'."
Finally, on February 27 Tokushima Prefecture announced that an Airport Hydrogen Festival would be held at the prefectural airport from March 1 to March 25. Tokushima Prefecture is on Shikoku Island. Its capital, Tokushima City, is approximately 100 kilometers southwest of Osaka. In addition to exhibiting FCVs in the airport lobby, the festival will include "an exhibition showing the characteristics of hydrogen energy, such as reducing the burden on the environment." Its culmination on the final two days will be "experimental shows and quiz rallies for children using hydrogen."
The source articles for this post all appeared in the Nikkei Sangyo Shimbun and the Kankyo Business journal.