IHI Breaks Ground on Hydrogen Research Facility
By
on September 05, 2019
Japanese capital goods manufacturer IHI Corporation announced last month that it has started construction of a 1,000 square-meter hydrogen research facility in Fukushima Prefecture. The facility will be an addition to IHI's Green Energy Center in Soma City which was launched in 2018. One of the Center's original focuses is the production steps of the green hydrogen supply chain using solar electricity to power developmental electrolyzers. The new facility will focus on hydrogen carriers, including ammonia and methane (via "methanation" of carbon dioxide), that can be used in the logistics steps of the supply chain.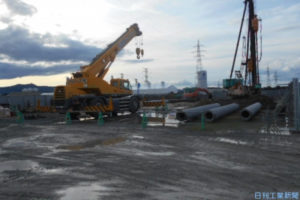 IHI has been conducting research for at least the last five years on ammonia-based technologies for the consumption steps of the supply chain, including combustion turbines, solid oxide fuel cells, and co-firing with coal in steam boilers. IHI is a charter member of Japan's Green Ammonia Consortium.
Fukushima Prefecture was among the areas most severely affected by the Great East Japan earthquake of 2011, and was the site of the post-earthquake nuclear meltdowns at the Fukushima Daiichi Nuclear Power Plant complex. According to an August 15 article in the newspaper Nikkan Kogyo ("IHI research facility in Fukushima scheduled to be completed in June 2020"), IHI is building the hydrogen research facility with the goal of becoming "a major technical force for Fukushima Prefecture." The prefecture seeks to be "a major hydrogen utilization base" and to produce "renewable energy equivalent to 100% of the prefecture's energy demand." According to Nikkan Kogyo, the National Institute of Advanced Industrial Science and Technology (AIST) and Fukushima Renewable Energy Laboratory are already "conducting hydrogen energy research, including the world's first demonstration of a 100% ammonia-burning gas turbine" – presumably in collaboration with IHI.
The hydrogen research facility is scheduled to open in June 2020.
Click here for Ammonia Energy's previous reporting on IHI's ammonia energy program.