Ammonia Featured in South Australia's Hydrogen Action Plan
By
on September 26, 2019
The Australian state of South Australia took another step into the hydrogen future this week when it unveiled its Hydrogen Action Plan at the International Conference on Hydrogen Safety in Adelaide. The heart of the Action Plan consists of the practical measures that governments undertake in areas such as infrastructure, workforce, and regulatory framework development. Zoom out, though, and it is clear that fostering a major export position in green hydrogen is first among equals in the Action Plan's priorities. And this being the case, it is no surprise that ammonia is singled out for special attention:
Considered one of the most prospective chemical carriers of hydrogen, green ammonia — a chemical compound of nitrogen and renewable hydrogen — is also a potential fuel for large-scale power stations, making it an attractive export opportunity.

Hydrogen Action Plan, Government of South Australia, September 2019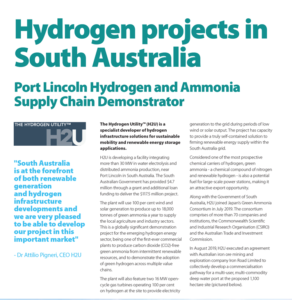 Ammonia Energy has covered South Australia's hydrogen activities primarily through the lens of hydrogen developer Hydrogen Utility, and indeed H2U's Port Lincoln Hydrogen and Ammonia Supply Chain Demonstrator is a described in a full-page showcase.  Among the cited facts previously reported were the Demonstrator's major elements: sourcing of electricity exclusively from local wind and solar farms; "more than 30 MW" of electrolysis capacity; ammonia production capacity of 18,000 tonnes annually; and two 16 MW gas turbines that will burn pure hydrogen to provide firming capacity to the regional electric grid.  The new news is that last month H2U signed an agreement with the Australian mining company Iron Road Limited to jointly "develop a commercialization pathway for a multi-user, multi-commodity deep water port" at a site 50 miles up the Spencer Gulf from Port Lincoln – hardly the action of a company that is thinking timidly about its commercial prospects.
The Action Plan's action theme 3 is "deepen trade relationships and supply capabilities."  Exhibit A in establishing the State's credentials in this area is the announcement that South Australia has joined Japan's Green Ammonia Consortium.  In fact, Sally Townsend, South Australia's Commissioner to Japan and Korea, "represented South Australia at the inaugural meeting of the Green Ammonia Consortium in Tokyo" in July.  Other parties who joined the Green Ammonia Consortium at the same time included the Australian Trade and Investment Commission, Australia's Commonwealth Scientific and Industrial Research Organisation, and none other than Hydrogen Utility.