Advances in Ammonia-Fired Gas Turbines Open Up Major Use Case
By
on October 06, 2017
Ammonia Energy Anniversary Issue: a "top five" development in technology advancement
In the last 12 months …
Researchers seeking to fire gas turbines with ammonia made significant strides toward realization of commercial-scale machines in both the U.K. and Japan. This means that electricity generation has become a realistic near-term use-case for ammonia energy.
Ammonia-fired gas turbines: from laboratory to demonstration scale
Running the world on renewable energy will require a method for smoothing out the temporal mismatches between energy harvest and energy use. For ammonia to answer this challenge, one efficient technology will be needed to convert energy into ammonia and another to convert ammonia back into energy. Gas turbines (GTs) are a key factor for the second part of this dynamic.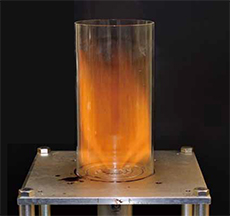 GTs are widely used today to turn natural gas into electricity. Work over the last year in Japan, the U.K., Turkey, and the U.S. has established the technical viability of burning pure ammonia in gas turbines with concomitant displacement of fossil methane.
This may seem like a non-event to those who expect the future to belong to utility-scale fuel cells and their peerless energy-conversion efficiencies, but the reality is that combined cycle gas turbine power plants routinely operate at conversion efficiencies above 50%. Fuel cells may ultimately find a place in utility-scale applications, but it seems unlikely they will supplant GTs altogether. It is more likely that they will join GTs in fuel-cell / gas-turbine hybrid systems. Having an ammonia-powered version of a prevalent power generation technology is likely to further consolidate that technology's position and give ammonia energy an important use-case in the new energy economy. Or, in the words of Siemens Programme Manager Ian Wilkinson,
"by providing the means to release energy from green ammonia at useful power levels – and with a sound basis in proven technology – ammonia combustion could unlock the bulk storage of renewable energy, as well its transportation from remote centres of production."
The research in this area is now developing into demonstration projects. Outside Oxford, in the U.K., Siemens is scheduled within the next few months to begin operation of its "Green Ammonia" system, showcasing the complete cycle of the ammonia energy value chain, including synthesis, storage, and electricity generation. In Yokohama, Japan, IHI Corporation's industrial trial of an ammonia / natural gas dual-fuel turbine is set to start in 2018.
Ammonia Energy reporting
A year in review
To mark the first anniversary of Ammonia Energy, we reviewed the most important developments from the last 12 months. This "top ten" list spans two areas: five are technology advances that will arguably produce the most important opportunities for ammonia energy, and five are economic implementation steps that are arguably the most significant moves toward real-world deployment.
Technology advancement:
Economic implementation: